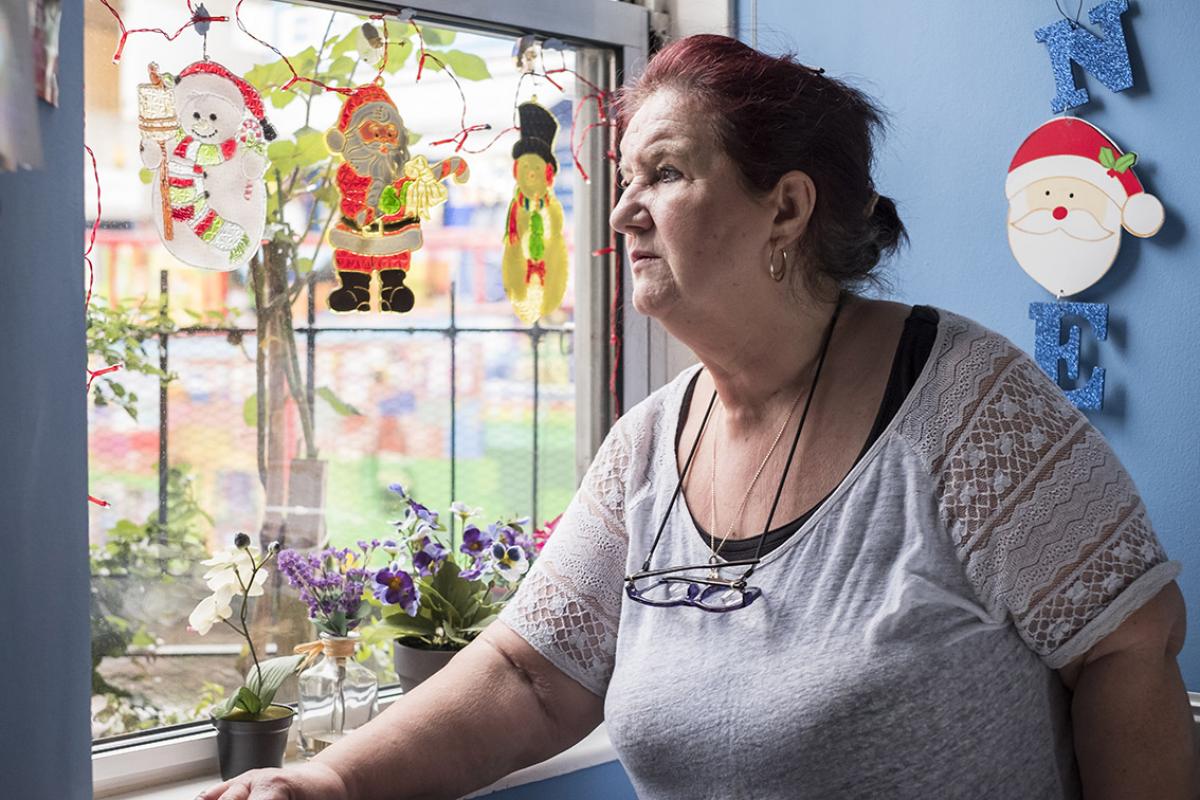 Transcript
ElizabethBetween 1975 and 76, I moved into Murchison House. Eve Wright brought me up to the flat to see it and it was a two-bedroom flat and because it was the first more or less flat, I thought, 'I'm going to take this flat'. And the only thing in that flat, in Murchison House, was that I always had to have the light on because the kitchens, because the way they were built, the kitchens were quite dark.
I moved in this flat, 300 Ladbroke Grove, in 1980. So I've lived here near 40, nearly 40 years. This flat is really bright as well and you get the evening sun and it comes over here and it's like a beam – it's absolutely beautiful and I love that.
I was brought up with the carnival. Years ago you would get sound systems, 'Oh my god, blow your head off!' You could hear it from down the other side of Murchison House, you know.
When they knocked down Murchison House, do you know, I actually cried. I've just lost my partner 20 months ago, so I do get emotional when I talk because he loved living in this flat. And he used to always say to me: 'Betty, I hope we don't move out of this flat,' he said, 'I hope when they come around with the regeneration, that they say, you just stay there in this 300 Ladbroke Grove and just do it up, don't knock us down sort of thing'.
People are thinking, 'Oh, you come from an estate, you're either on drugs, you've either got no good, you're this or that.' – well, that's not true, that's not true, because there's lots of people, good people come out of estates.
One of the tenants there, he's been there nine years, Nick, he's got quite a bad disability and he said, 'When I first came here, Betty ... I couldn't get over how people were so caring.'  I said, 'See Nicky', I said, 'We're the special estate you know, we've got special touches.' I would make him laugh ...
And do you know round here at night-time, it's so quiet, it's so quiet. It is so quiet. Even when that shop is shut and they're shut, it's just so quiet and I often say to my family and that, my sister and all that, I say, 'You don't realise how quiet we are, because you are not up here all day, you don't see.'
Oh, everyone knows Kirit. He's such a nice man, Kirit, you know, and he's been there years too, Kirit, and it's such a handy shop there for not just us on the estate, for the whole of Ladbroke Grove, because he's so helpful to people. I suffer with my back and my legs a lot and if I have to carry the milk or if I've got something heavy, he'll say he'll get one of the boys to carry them in for me. You wouldn't get many shopkeepers like that. He's part of the estate, you know.